<! -- Put Logo here on each page. -- >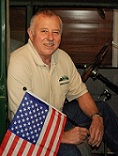 Semi-retired, Tommy Roden splits his time between his duties at Roden's All-Star Machine and his cabin in the San Juan mountains in southern Colorado with his wife, Glorene, Cody the Wonder Dog and their singing miniature dachshund, Alena. He raised three bright, handsome sons. Contact him for interest in quotes, old cars, vinyl records, juke boxes and all things political at
tommy@rodensallstar.com
, or you can call him at 817-927-2825.

As Vice President of Production, Tony Roden runs our lathe department and engineering group. He treats machining like an art and believes that every part All-Star produces should be distinguishable from any other manufacturer's part on the shelf by the visible degree of quality put into it. He currently owns two patents for his
innovative tooling designs
. Tony is available for consultation at
tony@rodensallstar.com
, by calling 817-927-2825, or you can might him rock-crawling in his 1966 International Scout.

Timothy Earl Roden, 44, of Weatherford, departed this world Friday morning, June 3, 2011 surrounded by his family at their Colorado cabin. As a loving husband and caring father, Tim's gentle manner and thoughtful guidance lives on with his devoted wife Wendy Walker Roden, and his adoring children, Treagan Earl Roden and Taryn Elyse Roden. As a master machinist and co-founder of Roden's All-Star Machine & Mfg., Tim's insightful expertise and leadership helped build the family company from a 3 man garage-shop, to a corporation with over 80 employees, whose livelihoods are his living legacy. As a friend, Tim's loyalty and sense of humor touched all those around him. His love of life thrives in everyone fortunate enough to have known him. And as a son, brother, and member of our family, Timmy's courage and strength and gentle heart will forever inspire us. His spirit remains with his mother, Brenda Ray Goke and her husband Dennis, father Thomas Earl Roden and wife Glorene, brothers Tony Ray Roden and Thomas Dwight Roden, grandmother Wilma Pauline Tillinghast, and many aunts, uncles and cousins. God bless and keep him until we too pass through the veil.

Peon, whipping-boy, scape-goat and toilet scrubber are only a few of the hats Tom Roden wears at All-Star. He is also Vice President of Operations. You can contact him with any compliments, complaints, compliance issues or conversations concerning commercial contracts. You can always tell when he is at work by checking the parking lot for the 1951 Chevy Coupe that he bought in the spring of 1981 and still drives today. If it isn't there, he is home with his lovely wife and 3 children, and 3 dogs, 2 cats, and a couple of dozen chickens. Contact Tom at
tom@rodensallstar.com
or FAX him at 817-927-2262.